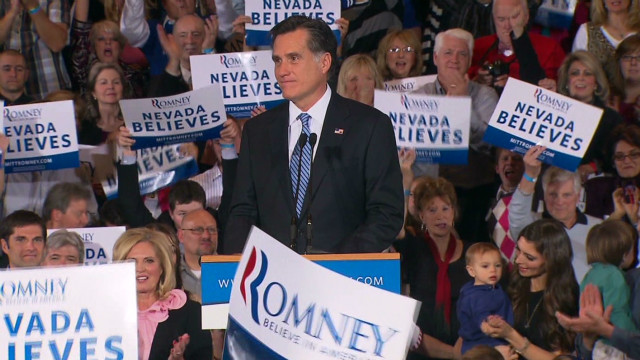 So with Romney's big win in Nevada he is yet again the frontrunner? Yes to perhaps being the frontrunner but declaring him as having won big is a matter of opinion. Consider the numbers.
In 2008 Mitt Romney won the Nevada caucus with 51.1% of the vote. He received 22, 646 votes. Ron Paul was second with 13.7% of the vote and John McCain was third with 12.7% of the vote.
In 2012, Mitt Romney won the Nevada caucus with 47.6% of the vote. He received 11,822 votes. Newt Gingrich was second with 22.7% of the vote and Ron Paul was third with 18.6% of the vote.
Let's put his victory into perspective. In 2012 Romney received half the votes he garnered compared to 2008 and both his total percentage of vote and margin of victory were significantly less. In 2012 he received 3.5% less of the total vote than he did in 2008, and his margin of victory compared to the second place finisher decreased from a 37.5% difference to a 24.9%. Thus, by all measures, his performance in Nevada in 2012 was worse than in 2008. Remember also while Romney won Nevada big in 08, McCain won the nomination. Nevada is no bellwether.
Yes exit polls do suggest that he won over major constituencies in Nevada, winning over those who considered themselves Tea Party members and very conservative. But again, remember this is a state he won four years ago, a state sympathetic to him because of its Mormon population, among other reasons.
The Nevada victory must be understood in context. So far Romney has had only one victory in 2012 compared to 2008-Florida. As I noted in a recent blog, he performed almost identically in Iowa in 2008 and 2012. He was expected to win big in New Hampshire in 2008 and 2012 and he did. He lost big in South Carolina in 2008 and 2012. Yes he did win Florida in 2012 but it was due in larger part to Super-PAC money and attack ads.
The mainstream media is quick to pronounce Romney the leader in 2012. It's all relative. He actually does not look as strong this year as 2008 and he still faces all the problems of lack of passion and excitement for his candidacy. He may be the frontrunner but he is a weak one.
Romney will do well in a month of February noted for its lack of awarding significant delegates. Let us see what Minnesota bodes for him. I suspect a tight race with Ron Paul my sleeper longshot to win. Betcha $2 on this (not $10,000)!